Beginning marketing efforts for a new or existing brand can be quite hard, especially if you don't know where to start. With so much content that can be found in social media channels, podcasts, websites and pretty much anywhere in the web it's very easy to get lost.
That's why we've decided to put together this guide to help you succeed in your marketing journey. The following are the steps we take into consideration when building marketing campaigns for our clients. We're quite certain that if you do these steps right you will set your business for success!
1. First And Foremost, Define Your Target Market:
For marketing to pay off, start by understanding who your target market is. Many businesses make the mistake of believing their product or offer is for everyone, but in reality, the better you understand the market segment your ideal customers are in, the more effective marketing will be.
The best way to define your target market is by understanding why existing customers bought your product. You can use some of these criteria to help organize your findings: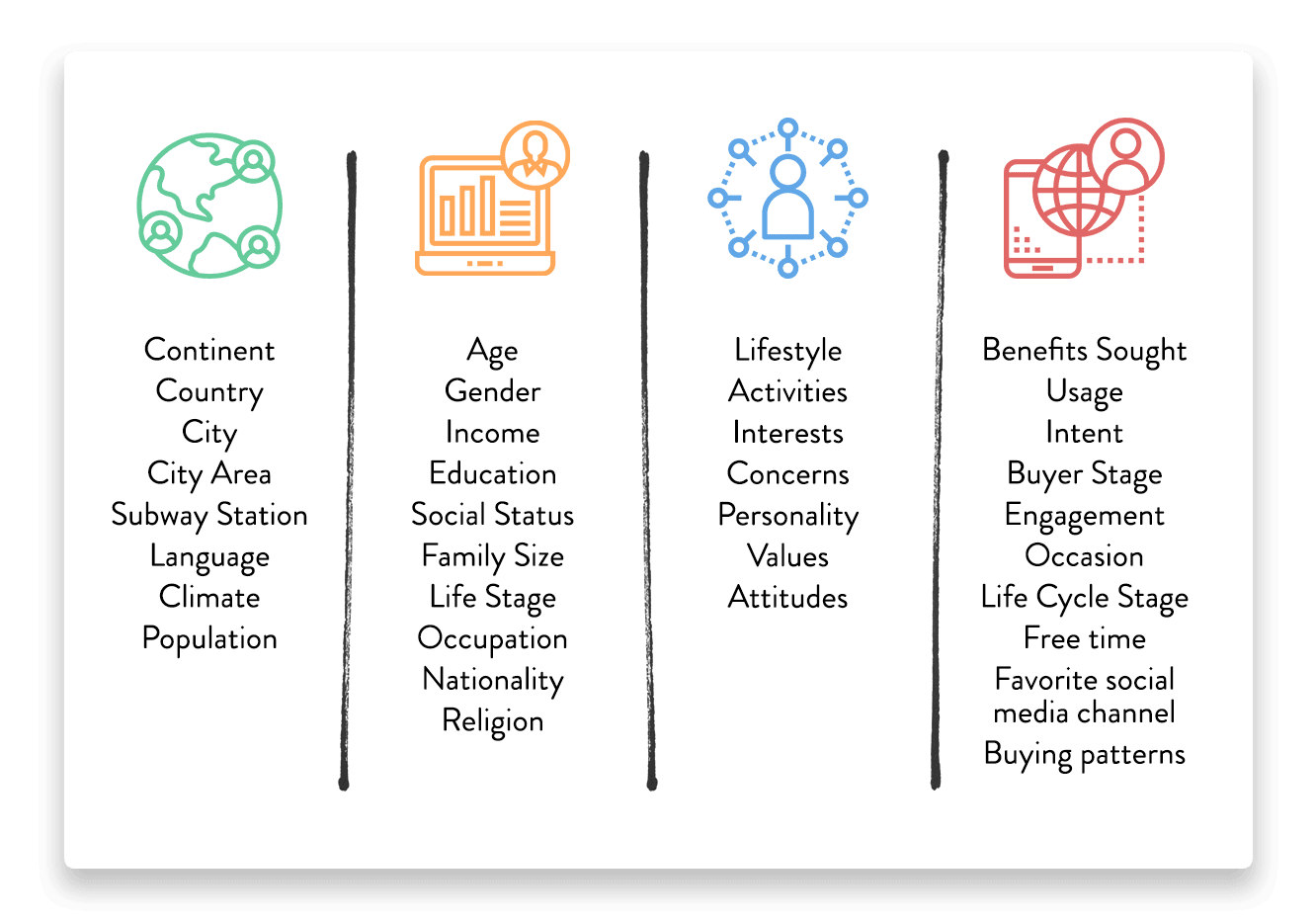 Sources: QuickSprout & Oberlo
Start by gathering general information, and then get as specific as possible. If you sell laptops, for example, are they for children? Students, professionals? Try to narrow down who your product attracts, the problem it solves and who it is solving for; "professionals" is good. "Graphic designers" is better.
After getting a clear idea of your target market, move on to creating buyer personas.
Related: The Recipe for Creating Awesome Buyer Personas [Infographic]
2. Create A SWOT Analysis:
You need to know where your company and brand stands in the market. A SWOT analysis can give you and your team a clear vision of your: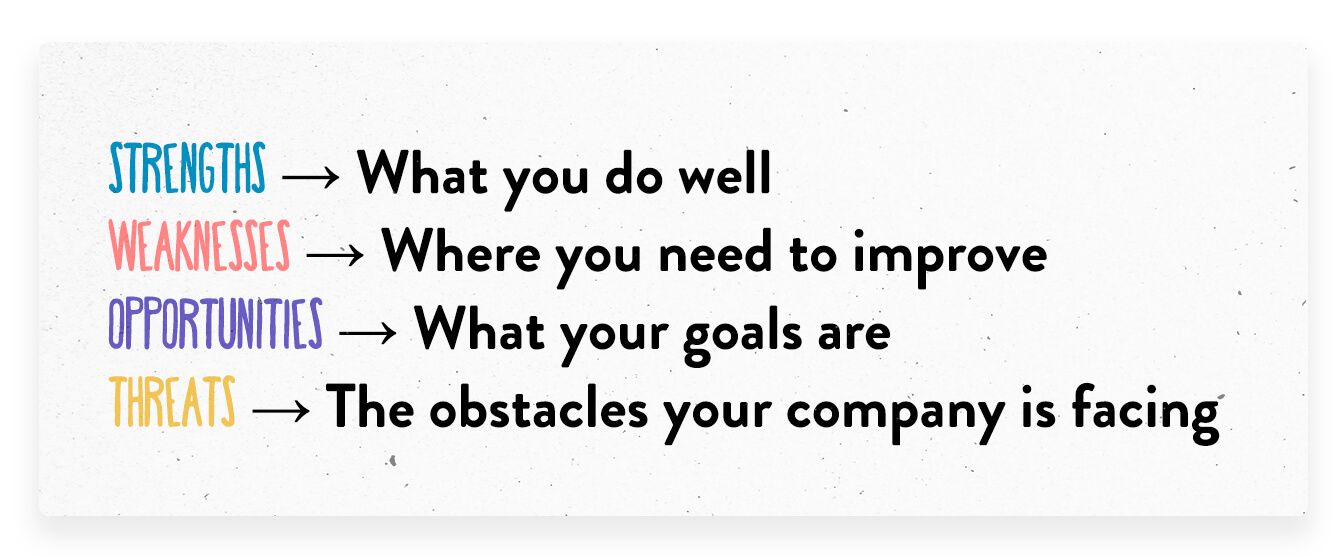 You should also apply SWOT to your competitors: their market share, value proposition, pricing, whether they're conducting marketing efforts or not, and anything that helps you identify opportunities to leverage your company, reach a higher audience, and- most importantly- how to address your market, which begins when you…
3. Create Your Elevator Pitch:
The concept of the "elevator pitch" has been growing in popularity because it helps you build a short, concise framework of your business goals. Startups use their elevator pitch to find potential investors and most importantly sell their ideas as should you and your team, this will help everyone get aligned with your product and sales approach.
Your customer should have a very clear idea of the problem your product or service solves in less than 30 seconds. Catching people's attention gets more difficult by the day; that is why it's so important for you and your team to efficiently communicate your product/service's message.
How do you create an elevator pitch?
Identify the problem or market needs- then, the solution- your idea!

Be straightforward and emotionally compelling in your language – give facts are impactful to your audience. Make them believe in your cause.

Know your audience and speak to them personally- address their pain points, and they'll identify with your offer.

Identify your product or service – be specific and measurable.

Remember, the point of the elevator pitch is to keep it BRIEF – 30 seconds is a good guideline.
Here's an example of applying these principles to a great elevator pitch.
"Don't you hate how lazy and out of shape hamsters are these days? But there aren't any gyms for small rodents, and personal trainers are expensive. The Ham 2000 is great for hamster moms and dads- a tiny full-body exercise machine they can put right in their hamster cage and get on with their day. Plus, it's adorable!"
4. Create A Brand Identity Book And Give Your Brand a Personality:
Most business don't believe this is an important step in their marketing strategy – not only is it vital, but it's essential to do it as early in the life of your brand as possible!
If you want your brand to have instant recognition out the door, you need an eye-catching brand personality that conveys your culture and product.
A brand personality book establishes the consistent rules and principles that will guide your brand identity – for example, a small family of fonts that will always be used, color schemes for product livery or logos, aesthetic guidelines, etc. Visuals are one of the fastest and most instinctive ways humans accept- or reject- new experiences. Give your brand a personality and stay true to it.
Developing your brand's personality will not only make sure branding stays consistent across your team, creating it requires you to take a long, thoughtful look at what you want your brand identity to be – and how you want it represented to the world.
5. Create a Website Or Landing Page:
If your audience can be found online, you need a website or landing page. Period.
First of all let's start off by understanding the main difference between a website and a landing page. Landing pages are built to drive traffic for a specific marketing campaign, the main purpose of a landing page is to make the visitors focus on the intent on the page that could for instance be "Schedule a tour to our facilities", "Purchase THIS product" etc. It should only have content that is specific to the offer, product, or service. A landing page has no distractions and should be designed to convert the user or take them one step down your marketing funnel.
A website on the other hand is a group of pages designed to help visitors coming to a website and drive the desire to navigate all or most of its content in order to build interest in a product or service.
A great, navigable site is one of the biggest customer trust indicators. Building a great site is challenging, but following these principles will help a lot:
Set a timeline and due date: This is fundamental – if you don't set a completion timeline, you won't complete it.

Define the hosting platform: if you have your own developers, great! If not, there are plenty of supported-DIY hosts like

Wix

,

SquareSpaces

or

Webflow

.

Have a plan: don't jump into sitebuilding without design goals. Will your site have a shopping cart? A Contact Us section? What do you want visitors to see first?
Start by defining your website's navigation – main menu and footer.
Stick to your previous work: Make sure that during the creation of your website you have on your top-of-mind your buyer persona, brand book/personality and your elevator pitch.

Design: start creating your website's wireframes – a rough blueprint of your site and page layout. There are plenty of free, online tools to help you build one, but a map on your whiteboard or even pen and paper is fine! Define where you want to place titles, texts, images, call to action buttons and any other expected features.

Create prototypes: Develop and test your prototypes or final design pieces- but always test and preview before you go public!

Review: The last step is extremely important! Show your final prototypes to a useful sampling of visitors for feedback and bug-hunting: a small group of trusted, existing customers is great for this. Always be open to clear, constructive feedback!

Iterate as necessary.
Building an initial marketing strategy is way too big a subject to do it justice in just one blog post! In 2 weeks, we'll dig even deeper into the next steps. Stay tuned!
Does creating a marketing strategy by yourself seem too daunting? Get in touch with us. We're passionate about marketing strategy, great advertising, creative content, fun design, and helping people succeed in telling their brand's story.
Sources: